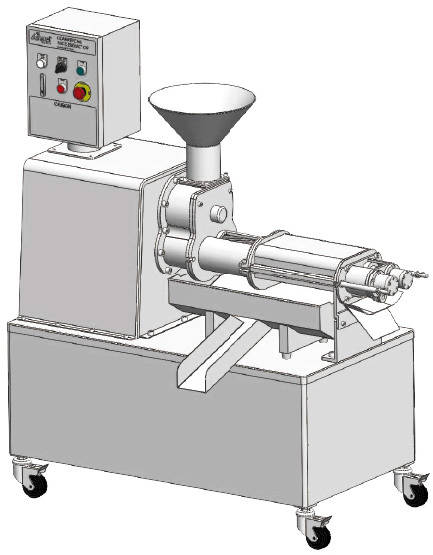 COMPARATIF ANGEL140K / GOODNATURE X-6

GOODNATURE X-6:
Capacity: 217 kg per hour
Weight: 454 kg fully assembled
Dimensions: 191cm x 150cm x 157cm
ANGEL 140K CRUSHER:
Capacity: 300 kg per hour
Weight: 200 kg fully assembled
Dimensions: 129 cm x 59 cm x 155 cm
FR
Les chiffres montrent qu'en plus d'obtenir un vrai jus texturé, l'Angel 140K Crusher va sortir un tiers de jus en plus pour un poids machine deux fois inferieur. Monté sur roulettes, le 140K Crusher est plus facile à déplacer dans l'atelier.
Le crusher semble avoir permis de doubler la capacité d'extraction du 140K, nous avons testé dix kilos de carottes pour constater que le débit est vraiment performant pour une telle qualité de jus.
Actuellement nous avons cette machine en stock, venez la tester.
Démarrez votre activité dès demain grâce au leasing ou crédit-bail, avec le Groupe BPCE et Natixis Lease.
Cet appareil est conçu et optimisé pour l'extraction de jus de produits végétaux crus. Nous vous recommandons de nous demander conseil vis à vis de vos besoins spécifiques (comme par exemple les pousses de blé, l'angélique, les fruits à chair molle et les herbes aromatiques), de manière à ce que l'on puisse vous équiper du filtre adéquat. Cependant d'autres produits peuvent être extraits quelques soient le filtre mais avec un rendement variable. Une autre option, si l'intérêt est porté sur une variété de produits, serait de commander un deuxième voire troisième filtre supplémentaire (un pour les fruits, un pour les légumes et les feuilles et un pour les noix)
EN
The numbers show that in addition to getting a true textured juice, the Angel 140K Crusher will produce one third more juice at half the machine weight. Mounted on wheels, the 140K Crusher is easier to move around the shop.
The crusher seems to have doubled the extraction capacity of the 140K, we tested ten kilos of carrots to see that the flow rate is really powerful for such a quality of juice.
We have this machine in stock, come and test it.
Start your activity tomorrow thanks to leasing with Groupe BPCE and Natixis Lease.

This machine is designed and optimized for the extraction of juice from raw vegetable products. We recommend that you ask us for advice regarding your specific needs (e.g. wheat shoots, angelica, soft fruits and herbs), so that we can equip you with the appropriate filter. However, other products can be extracted regardless of the filter, but with variable yield. Another option, if you are interested in a variety of products, would be to order a second or third additional filter (one for fruits, one for vegetables and leaves and one for nuts).